MY JEWISH QUESTION
My car entered the parking lot of the Jewish Federation. The security guard at the gate stopped me and approached my car.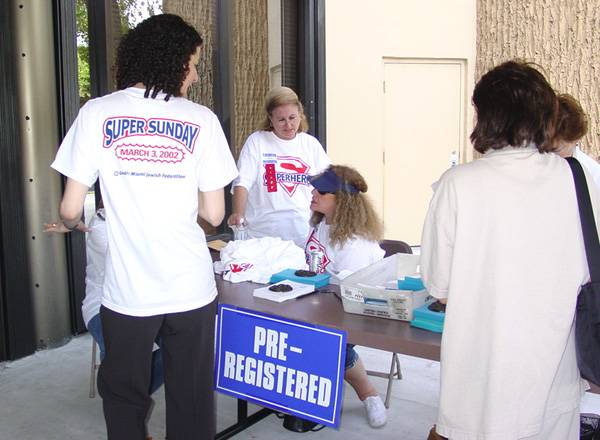 - Are you a volunteer?
- Yes, I am going to work today.
He then gave me instructions as to where to register, where to park the car, where to have a bite, and where to work.
Soon I was given a name sticker and a festive tee shirt bearing the name of the Federation, and I was shown the room where all the volunteers who agreed to help the Jewish Federation, would receive their instructions.
There was a festive spirit in the place. There were slogans in many colors, balloons and flags. The security people were dressed in their dress uniforms and the hostesses themselves were smiling as they met each volunteer for this Super Sunday. I think that this festive atmosphere was not only here, in Miami, but in each department of the huge organization of Jewish Federations all over America. I was sitting among other volunteers waiting for instruction. I watched all those entering the room and peered over at the information bulletin and at the same time I was thinking... My mother is Russian, according to her nationality. My father - Byelorussian. I was born in Kiev and so it happened that I became Ukrainian. I know its language perfectly. I love my native city, and I sincerely suffer for my country. So who am I? Russian, Byelorussian, Ukrainian? And another question. What brought me here to a Jewish organization? What forced me to come here at the first appeal and to work?.. I an sure that it's because my husband is a Jew and that I shared with him his "Jewish fate" during our life together. That is why I am here. Those people who met us on our first day when we arrived in this country, included us into the large family of American Jews. They did not even ask our nationality as recorded in our passports.
And I recalled all the details of that first day that began our new life with our family in the land of the United States of America, in the city of Miami.
...A very energetic young fellow found us in the airport and asked, "Is anybody meeting you?" It seemed that he was a representative of the immigration authorities and that he had to fill out all of the necessary documents for us and then to hand us over to our relatives who would take us. He could have disappeared because it was the end of his working day.
"We do not have relatives," we answered, and we could see the horror on his face. He stiffened. His eyes opened wide and his folder almost fell from his hands.
We explained to him that while we were doing our documents for exit, our step-father's sister passed away in Miami and we did not have any connections with her son. But as we were already granted refugee status, we could not change our plans. So here we are, in spite of the fact that the thread connection us to an American relative was broken.
The fellow who accompanied us, loaded at the his watch once again and mumbled that his working day was over. He added that he would advise us to get our luggage as soon as possible and to return to our country. We understood immediately that the capitalist world was something different and we were not yet acquainted with it.
It was obvious that the fellow at last understood our situation and he asked us to be seated and wait. He went off somewhere to make a call.
...It felt as if the electric clock in the airport was broken or that someone kept its numbers from moving. It felt as though time had stopped. The two hours we were in the airport without any information, seemed to us an eternity. We wore winter clothing having left Kiev in December, in the midst of a very cold season. We didn't even realize that we were in the warm climate of South Florida - much warmer than even the summer temperature of Kiev. The passengers around were wearing tee shirts and shorts... Our ninety year old step-father unbuttoned his coat and my mother who was a little younger than he, removed her fur kerchief.
I was obvious to my husband and me that we had to do something. We could not imagine what was in store for us or where we would go. It was Friday, the eve of a weekend. But what happened, cast away all of our negative thoughts. In a moment we were surrounded by a group of people crying flowers. They were smiling. They hugged us. We heard the words, "Welcome to Miami. How are you?" Not recognizing their faces, we could feel their hands, their hugs, and we understood that we were with family.
People from the Jewish community took us to an apartment where everything was ready for us to begin a new life. Then we discovered that four Jewish families from Miami were sharing in or resettlement. It was those families who contributed funds to sponsor us. They filled our refrigerator with food. They carefully packed boxes with dishes, pot and pans, linens, clothing... We had everything, even little nails to hang our pictures on the walls.
Even now with the passage of so many years, I think back with thankfulness for those people who took such great care of us... And at the front of the line, stands Elisabeth Frank. She was the person who prepared for our arrival She called us almost every day, forcing us to speak English, and at the same time trying to find out what we needed at that moment. Elisabeth was not only a representative of the Jewish community, fulfilling her volunteer duties with excellence, but she was a very kind and open person. I think that many Russian families know her very well and are thankful to her for helping them! All this will always be with us, and our appreciation for the people who supported us are great. We are not yet steady on our feet in this life. Our family went through the acculturation process with difficulty. But we are thankful to those who helped us in those first days. That is why, for me, my personal involvement is Super Sunday is not only active participation, but a duty of honor. Spending hours talking on the phone with my countrymen is not an easy task. It is the second year that I am participating in this process. Therefore, I know that not everyone feels thankful, and that feelings are dulled with the happy years of life in America. It's a pity that people forget so quickly, Of course not everyone received such great help from the Jewish Federation as we did. Yet is obvious that it only because of the help given by this organization that all Jews were able to come to the United States and to resettle here. This should not be forgotten!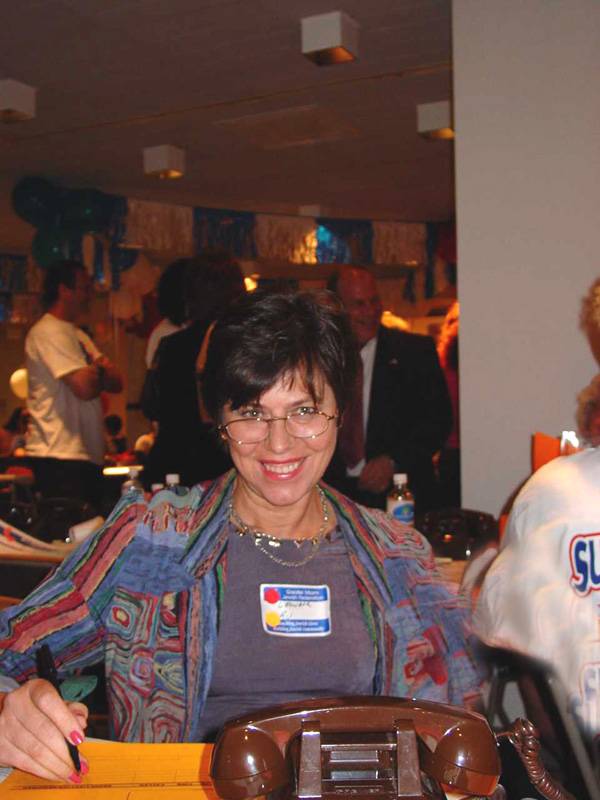 There were many people who were eager to donate to the Jewish Federation - fifty, forty, thirty, twenty dollars, - whatever they could. The amount was not as important as was their participation. It was very pleasant for me to speak with senior citizens who already retired and are receiving SSI from the government. The amount they receive is not great. It is rather minimal to live on. And even these people donate money. Five dollars was donated by an elderly lady whose son is paralyzed. My conversation with her warmed me, because I felt the warmth in her voice. One man's rude voice shocked me. "I am renovating my apartment. I have no time to talk to you or to think about your Super Sunday!" I know this man. He has a rather large business in Miami and he should give something, but he didn't want to. Renovation...
I called and I filled out cards. There were many people in the large hall who were calling, and speaking in different languages. Everyone was working, even the children, whose parents were there, took part as well.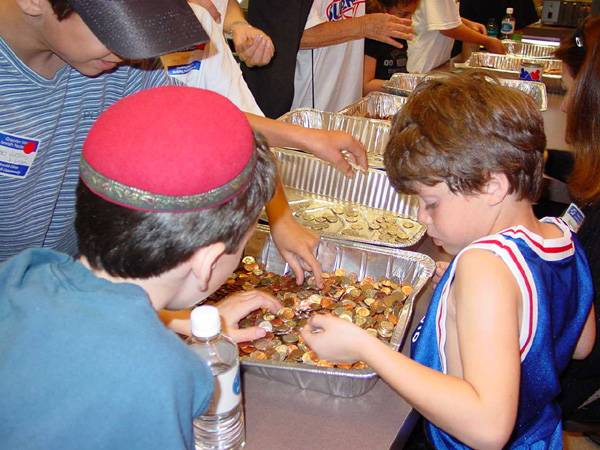 They had their duties. They were counting money that was collected in the Jewish schools for Super Sunday. Every half hour there was a moment of silence, when the amount raised was announced. At four o'clock, the sum reached over one million dollars!..
I was asked over the phone how the money will be allocated. The first thing I told them was that some of the money will go to resettle new Jewish immigrants in America, even as we were resell, Because of these funds people will find a new home here. Some of the money will be used for Jewish acculturation, for education of needy children and to help Jews in other countries.
When I was driving home from Super Sunday, I was listening to the news on the radio. An announcement was made about an explosion near one of the synagogue in an Israeli city. It shocked me. It happened on Saturday, when families were leaving after the Shabbat. Some of them will never reach their homes after having said the evening prayers. Adults ere killed. Children were killed. The sorrow in these families was boundless. I understand that there is no money to replace a child to his or her parents, or a parent to his or her children. And yet, I thought that my check written today to the Jewish Federation will help my conscience find affirmation that I made a small contribution to a great human mission aimed at helping people.
Jewish Federation teaches me to understand people's grief and sorrow and to bring comfort and kindness to others.
Transfer into English by Inna Maltseva
Miami, 2002